Happy Together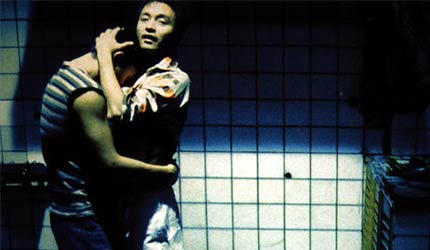 Ho Po Wing and Lai Yiu Fai are a couple of aimless Hong Kong gay boys. No longer in the first flush of youth, they have run away to try their fortunes in
Buenos Aires
, and there they fall into a destructive cycle of violence, promiscuity and self-loathing, each feeding the other's sense of hopelessness.
Not the cheeriest premise for a film, I'll grant you, but
Happy Together
is Wong Kar Wai's masterpiece, and it won him Best Director in Cannes in 1997. It also marked the pinnacle of Leslie Cheung's career as an actor, still remarkably youthful as the dissolute hustler Po Wing.
It is an hypnotic piece of film making, capturing perfectly the frayed glamour of Argentina, and the fascinating world of the Chinese who wash up there escaping family, past and the stifling conformity of their home societies. Tony Leung smoulders as the hopelessly romantic Fai, slave to the sexual whims of Leslie Cheung's character and later lost in a sexless romance with a young Taiwanese man he meets while working in a Chinese restaurant. I should mention here the extraordinary presence of Chang Chen as the Taiwanese ingenue - I had heard of him neither before nor since this film, which seems a shame, because he gives a brilliant performance.
I'm not at all sure what to make of this film as a political statement. It hardly presents a very positive picture of homosexuality, and somewhere deep within its layers of torment there is some sort of comment about race going on (Leslie Cheung's character is sullied by his sexual liaisons with caucasian men) which is potentially troubling. But I don't think it needs to be viewed for those kinds of ideas. For me it stands simply as a testament to that very real moment of masculine frustration in late 20s or early 30s when men start to feel washed up, desperate and totally alone. It is a study, too, in queer angst, unfashionable as that may still be.
It works on so many levels, not least on the aesthetic, with its lingering shots of the disheveled but still stunningly beautiful Tony Leung stalking through his lonely Buenos Aires hovel in tight white y-fronts, a smouldering cigarette in his lips.
This was the first of Wong Kar Wai's
films
that I ever saw, and it still remains my favourite. With its washed-out colours, its peculiar tangents and its frankly bizarre premise, it serves as a perfect introduction to the work of Hong Kong's most celebrated auteur.