Sun, Sea and Bargain Spotting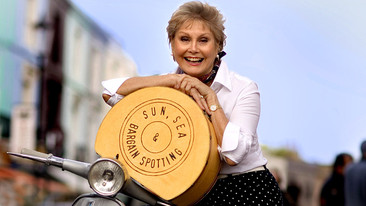 Anyone who knows me knows that I am something of a collector.
My grandmother and my beloved Aunty Audrey were great collectors, so I inherited their hoarding instinct. Also, I grew up with a mother who was a great thrower-away of precious objects, so in reaction I developed a great desire to keep things, for pleasure, nostalgia, or "just in case."
Naturally, I am utterly in love with antiques programs on television. This was a passion I developed early, watching the wonderful
Clive Hale
(may he R.I.P) in that iconic 1980s ABC television show
For Love or Money
. Under Clive's tutelage I learned all about
chinoiserie
and
murano
crystal and
Lladro figurines
. These days I am loyal to the
Antiques Roadshow
,
The Collectors
on ABC, and what is quite possibly my favourite TV show ever -
Sun, Sea and Bargain Spotting
on ABC2.
A kind of low-rent reality show for the middle-aged, each week two contestants are given a set amount of money and let loose on a flea market in continental Europe. Then they bring their purchases back and have to try to sell them for a profit in a market in Britain. Isn't this brilliant? It's enthralling television, and leaves me on the edge of my seat each week wondering if Natalie, a customer-service supervisor from Sussex, will turn a profit on the
shabby chic
wardrobe mirror she bought at a car boot sale in Slovenia.
Angela Rippon
is the host, and she camps it right up visiting out-of-the-way museums and reflecting in her glory days. She also gets in lots of comments about how fabulous the British are.
It runs for a full hour, leaving the viewer almost completely satiated, but still hanging out for next week's installment.
So forget glamorous evenings out. Stay in and watch some ABC2 - somebody's got to.